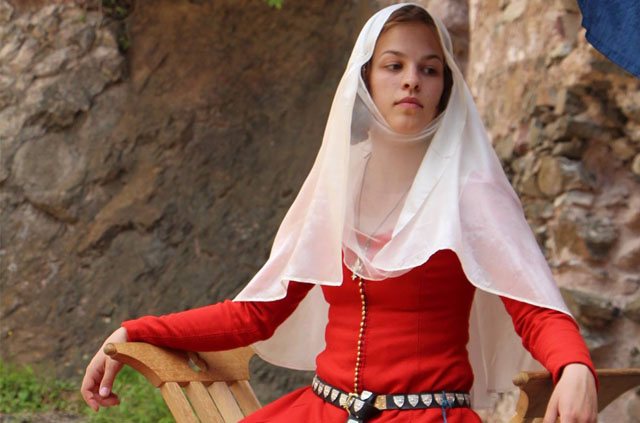 Katrine von Goldeck is Sir Francisk's young bride. While many other local nobles are only bound to each other by business, Katrine truly loves Francisk. No one believed it, but despite the difference of age, they are totally in love. A sober, private, indescribable love. She changed Sir Francisk to a better man and thanks to her natural beauty and simplicity, even the local peasants are glorifying her.
Katrine is -and always will be – the symbol of the best in humankind. Her spirit and love are stronger then death itself. Katrine is a very kind lady, despite the many tings she still has to learn in order to be a knights wife. Her position demands her to read and write, learning latin and french as well as counting, philosophy, poetry, dance and music.
Manners such as how to behave in public during meetings, banquets and visits are also among her future tasks. Katrine is also in charge of the castle whenever her husband is away. Her position is one of great responsibility, despite the fact that she is married to knight of lower rank. Fortunately, the whole retinue likes her and are willing to do all to help where they can.
The challenging role of Katrine Goldeck is played by Silke Lak Purcill. She is a dane living in Odense, and studies to become a …. She was the savior of our group as she took over the part in 2016, a few months before we had a important event on Castle Rafenstain. Firstly she was supposed to be just a standin for the event, but after the very first meeting with Charles, she demanded to become Katrine, as she was meant to play out her role. Silke does a wonderful job portraying a strong women in a male dominated world, but does it with guile and grace. She is truly the Damsel, and Princess of Castle Rafenstain,
But Silke was not the first person to portray this strong woman. Anna Svensson, was the first to try out the challenging role, and the addition of the character Katrine took our reenactment to a whole new level of acting. We must give Anna the credit for taking on the part, giving us a good time as long as it lasted, before she decided her education, and her dream of becoming a professional handballer became more important.